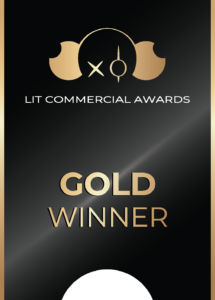 FULTON, MD May 2022 – The International Awards Associate (IAA) Is pleased to unveil the Season 1 winners of the 2022 LIT Commercial Awards to the public for viewing! With over 500 entries received in its' inaugural year from production crews all over the world, the LIT Awards remains one of the foremost awards programs that recognizes and honors creativity as well as expertise within commercial productions.  
This year, RackTop Systems secured two LIT Gold awards for It's Your Data, Volume 3. The videos were produced by Shine Films. The campaign was recognized with two awards for Video Marketing Campaign and Best On-Camera Talent. We are so proud of our team and especially our on-camera talent, Seth Kallick of Baltimore, who eased up on his vegetarian meal plan to consume a cheesesteak sub on-screen for Crazy Wall.  
Organized under IAA, the LIT Commercial Awards welcome all enthusiastic production teams located universally, in a grand attempt to create a stage worthy for all in the production industry, whilst celebrating the innovative accomplishments of top-notch crew members that best others in their respective fields.   
"During this years' competition, I am overwhelmed by the many awe-inspiring commercial productions in the 2022 LIT Commercial Awards, with so many entries teeming with creativity!" Exclaimed Thomas Brandt, the spokesperson of IAA. "I am truly honored to witness the elevation of commercialism, as the crews continue to thrive in creating messages that are memorable and everlasting, leaving behind a strong sensation of resonance."  
As IAA continues to strengthen the benchmarks of the production industry, neutrality in the jury panel is equally crucial. Under strict qualifications, the judges consist mainly of experts and professionals with unparalleled experience in their operations. Through their unique eye for excellency, the juries deliver their evaluations based on the utmost standards of the industry, searching for creative teams that will make a name for themselves.  
Grand Jury Panel
Over 25 countries have had their entries submitted, and the LIT Commercial Awards are gratified to have the assistance of 32 esteemed juries in the evaluation of these entries. These respected individuals who each possess tremendous contribution to the industry, are leading the way in the search of splendid productions, with great names like Joaquin Lynch Garay (United States), Martin Bihl (United States), Birger Linke (Singapore), Angel Iskrev (Bulgaria), Takae Takahashi (United States), Shangning Wang (United States), Daniel da Hora (Brazil), Pancho Gonzalez (Chile), Kushal Birari (United States), Yeon Sang Yoon (United States), and many more. 
Participation of International Brands
The LIT Commercial Awards is focused on international exposure and participation, which envelops all salient production crews and organizations within the industry, receiving awe-inspiring entries every year. The 2022 awards have been stimulating, with direct submissions from renowned productions such as: ACNE, ELSAMUSE, Affinity Creative Group, Scope Studios, Matter, QNET, LevLane, The Pudding, Bold Content Video, CharityBids, True North Inc. and indirect submissions such as Apple, Netflix, LACOSTE, Stella McCartney, Eli Schwebel, Valley Strong Credit Union, Ronald McDonald House Fort Worth, and so on. 
For the complete list of Season 1 awards and winners, please visit the LIT Commercial Awards' official website: https://thelitawards.com/winner.php  
"With the 2022 LIT Commercial Awards being this exhilarating, I now have high expectations for the program moving into the next phase, as the need for commercials is constantly on the rise," said Thomas. "Creativity and a structured mind is vital in creating the most interesting productions, which is why entrants are evolving to fulfill higher expectations in the fields of broadcast, non-broadcast, and commercials, and most importantly over the entire production industry." 
About International Awards Associate (IAA)
IAA, established in 2015, is the organizer of MUSE Creative Awards, MUSE Design Awards, Vega Digital Awards, NYX Awards, NYX Game Awards, TITAN Business Awards, TITAN Property Awards, NY Product Design Awards, MUSE Photography Awards, MUSE Hotel Awards, London Photography Awards, New York Photography Awards and European Photography Awards. Our mission is to honor, promote and encourage professional excellence, from industry to industry, internationally and domestically, through award platforms that are industry appropriate. IAA assembled LIT Commercial Awards to recognize Astounding Novel Commercial Productions Across Broadcast and Non-broadcast Platform Worldwide. 
 Website: https://thelitawards.com/ 
Twitter: LIT Commercial Awards 
Facebook: LIT Commercial Awards 
Instagram: litcommercialawards 
Media Partner: https://muse.world/