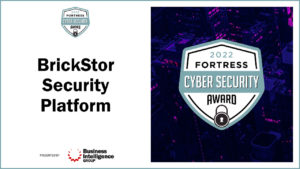 FULTON, MD June 7, 2022—The Business Intelligence Group today announced that RackTop Systems has won the 2022 Fortress Cyber Security Awards in the Threat Detection category. The industry awards program sought to identify and reward the world's leading companies and products that are working to keep our data and electronic assets safe among a growing threat from hackers. 
BrickStor SP is a software-defined NAS with embedded security and compliance features that make it more secure and cost-effective than a traditional file share with additional 3rd party security and compliance applications. It is the only data storage solution in the world that provides a real–time active defense to protect files against the most advanced threats, including cyber espionage and ransomware. Whereas other security solutions focus on protecting networks, RackTop is focused on protecting the data which is the true target of cyberattacks.
"We are extremely proud to be recognized as a top industry player within threat detection by the 2022 Fortress Cyber Security Awards program," said Eric Bednash, CEO and Co-founder of RackTop. "This recognition further validates our steadfast commitment to providing customers with best-in-class cyberstorage protection through our BrickStor SP platform. We look forward to building on this award with exceptional client service and continuous growth in the years to come."    
"We are so proud to name RackTop Systems' BrickStor Security Platform as a winner in the 2022 Fortress Cyber Security Awards program," said Maria Jimenez, Chief Nominations Officer, Business Intelligence Group. "As our society continues to evolve and become more reliant on networks and data, companies like RackTop Systems are critical at providing the protection and trust consumers demand." 
For information about BrickStor Security Platform please visit https://www.racktopsystems.com/brickstor-sp/.  
For information about the annual Fortress Cyber Security Awards, please visit https://www.bintelligence.com/fortress-cyber-security-awards. 
About RackTop Systems
Since its founding in 2010, RackTop Systems has led a transformative approach to data protection by creating Cyberstorage that aligns with a new era of data-driven cyber-attacks. Engineered by U.S. Intelligence Community veterans, RackTop's best-in-class BrickStor security solution follows a data-centric Zero Trust model that empowers the public and private sector to safeguard their sensitive unstructured data from the escalating presence of ransomware, insider threats, and nation state-sponsored cyberattacks. For more information on RackTop's Cyberstorage offerings, don't hesitate to  contact us today. 
About Business Intelligence Group
The Business Intelligence Group was founded with the mission of recognizing true talent and superior performance in the business world. Unlike other industry award programs, these programs are judged by business executives having experience and knowledge. The organization's proprietary and unique scoring system selectively measures performance across multiple business domains and rewards those companies whose achievements stand above those of their peers. www.bintelligence.com. 
Contact
Maria Jimenez
Chief Nominations Officer
Business Intelligence Group
+1 909.529.2737