BRICKSTOR SP
Data Security Platform for Unstructured Data
We protect your most valuable data from Ransomware & Insider Threats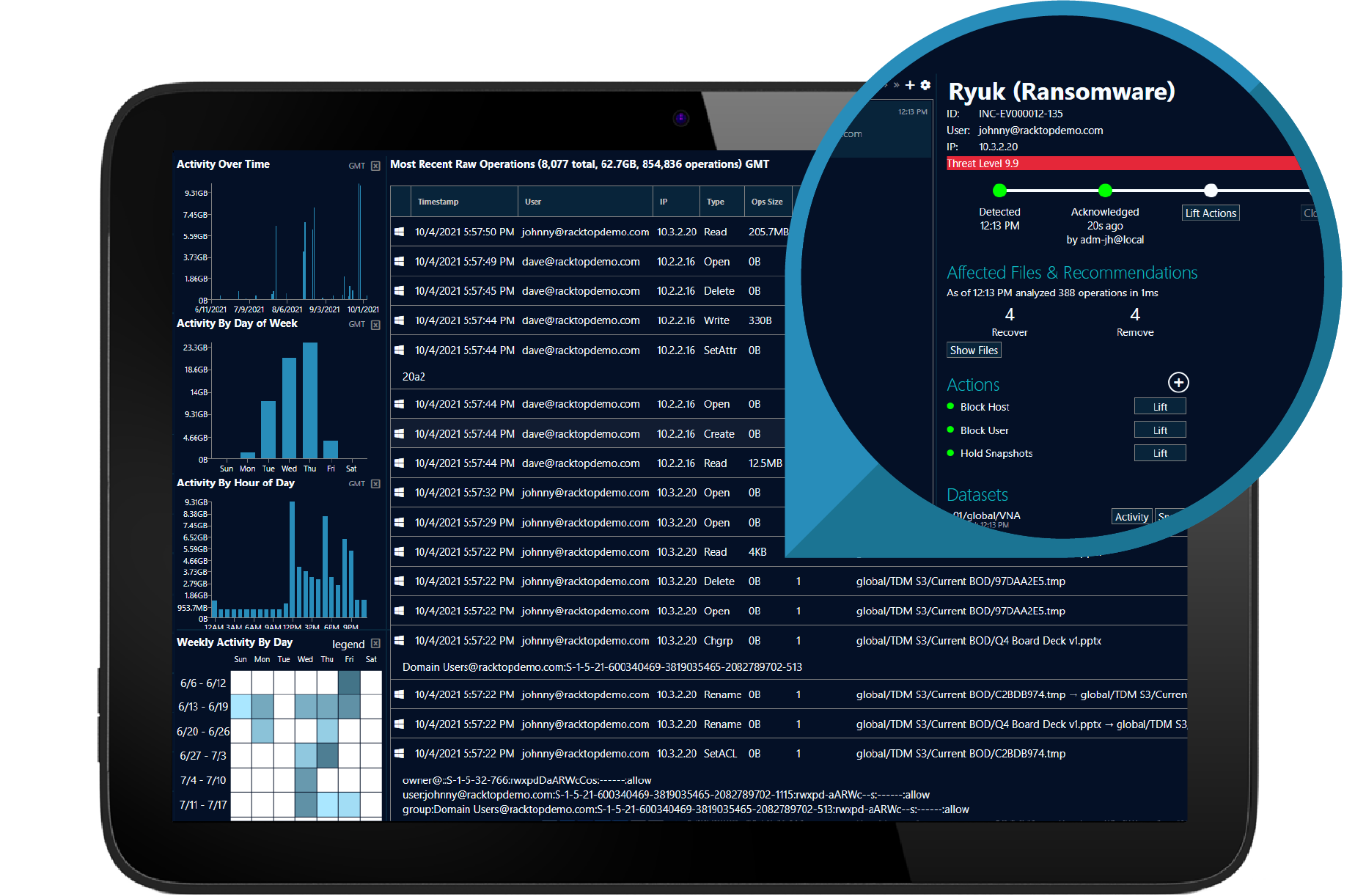 Active Defense
Stop ransomware and data theft in real-time with Cyberstorage
BrickStor SP actively defends SMB and NFS file shares, ensuring your most valuable data assets are protected from sabotage, ransomware attacks, and malicious insiders. BrickStor SP's active defense solution combines UEBA (user and entity behavior analysis) and SOAR (security orchestration automation and response) capabilities which are uniquely designed, engineered, and integrated to detect and stop data threats. Available as a drop-in replacement to your existing NAS (network attached storage), BrickStor SP can deploy as a virtual machine, on dedicated hardware, in the cloud, as a gateway to your S3 compatible storage, or on top of a SAN (storage area network). Give your data the protection it deserves.
USER BEHAVIOR
Stop data leaks, breaches, and insider threats.
We analyze every aspect of every interaction with data in order to build a fingerprint for what "normal" operation looks like. This enables us to identify and stop anomalous user behavior orders of magnitude faster than network based tools.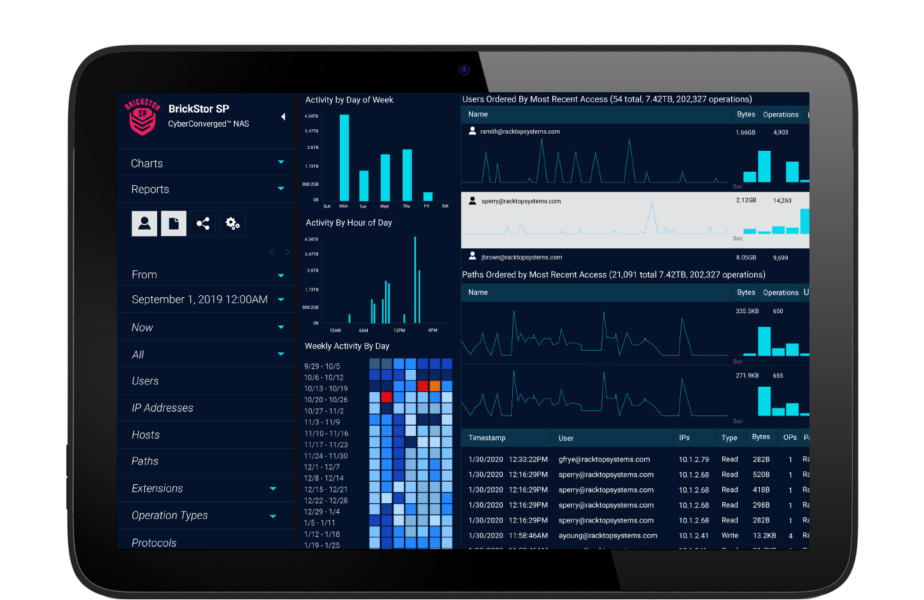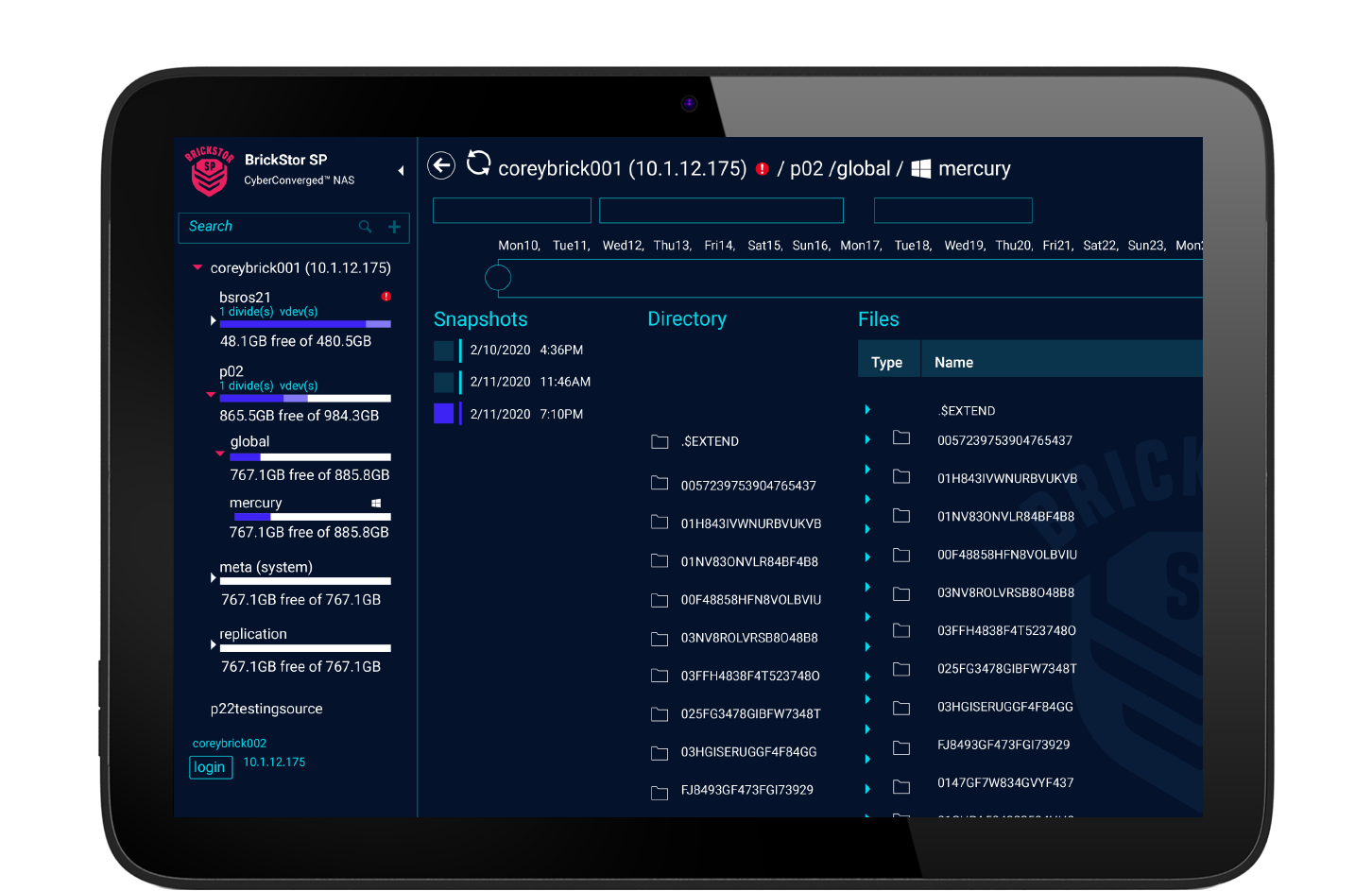 Metadata Intelligence
Know everything about your data all the time.
We collect and index vast amounts of data about each file, whether the data is local, in snapshots, or replicated to other systems under the management of BrickStor. Our analysis engines transform that data into intelligence that is used to reduce risk and exposure, meet regulatory compliance, and spot impossible to find security issues without any human intervention.
Encryption
FIPS AES-256. Manage keys without additional products.
Encryption is the foundation of data security. BrickStor SP encrypts data twice - at both the physical and logical layers - with little to no performance impact using two separate keys, ensuring your secrets are safe for centuries to come. Our KMIP compliant security framework doesn't require external key managers, and supports policy based key rotation and auditing.
Integrated Compliance Reporting
Simple automated reports ensure you remain in compliance.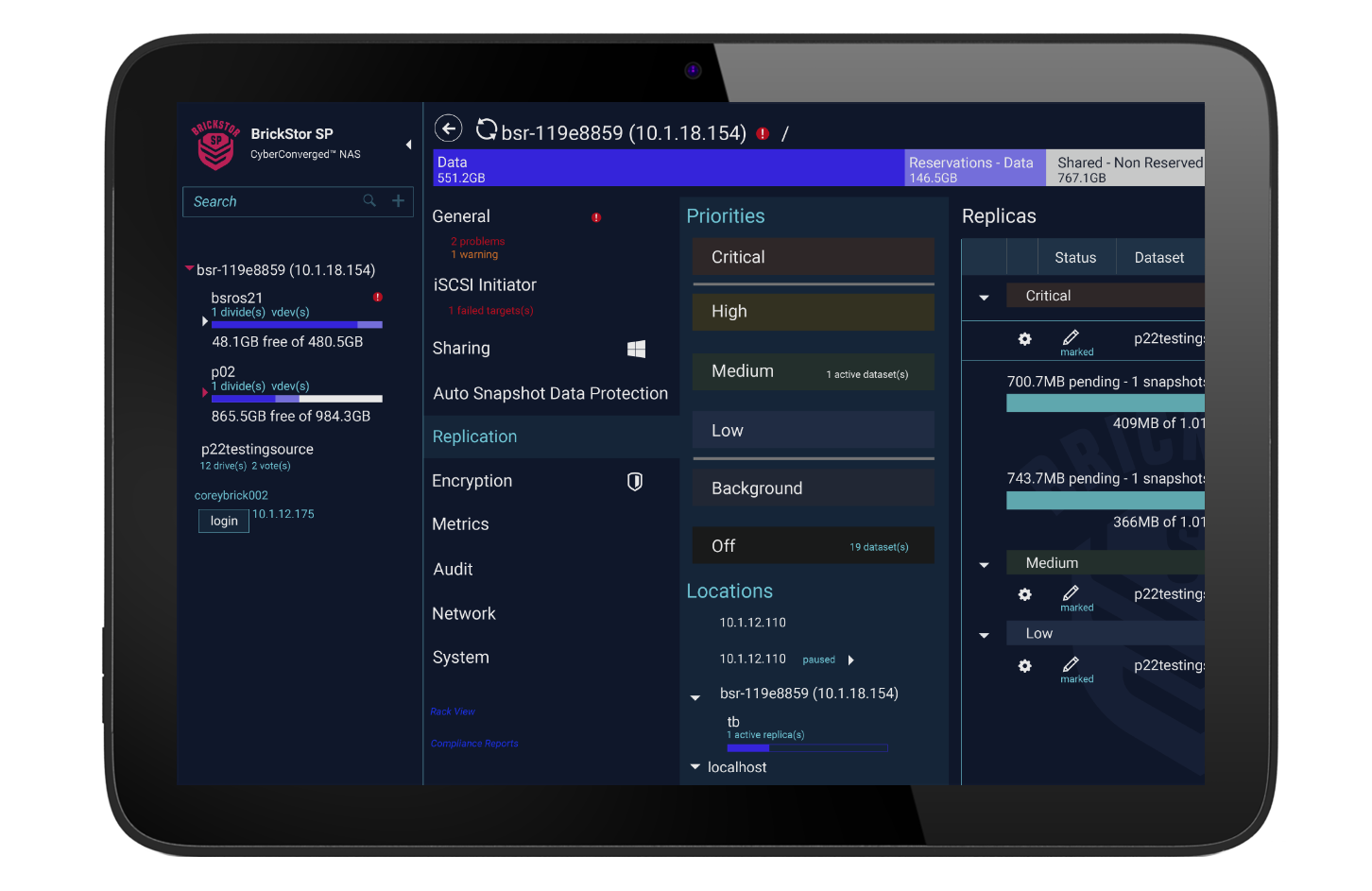 Data Protection
Record data like a DVR. Replicate it anywhere securely.
With policy based data protection and replication, BrickStor SP makes sure you are always covered. We take the pain out of managing backups by doing it for you automatically. And when it comes to replication, dynamic bandwidth control and high speed transport technology ensures your data gets offsite as fast as possible. Because security is the foundation of BrickStor SP, encrypted datasets are transferred without the keys so data can't be mounted or viewed by remote systems without your explicit permission and intervention.
Transparent Data Movement
Seamlessly move data without disruption.
Transparent data movement (TDM) enables the movement of data between file and object storage on premises and in the cloud to create economic efficiencies without disruption. TDM acts as a gateway to remote files, and can track user behavior and audit activity even though the data exists on a completely different storage system.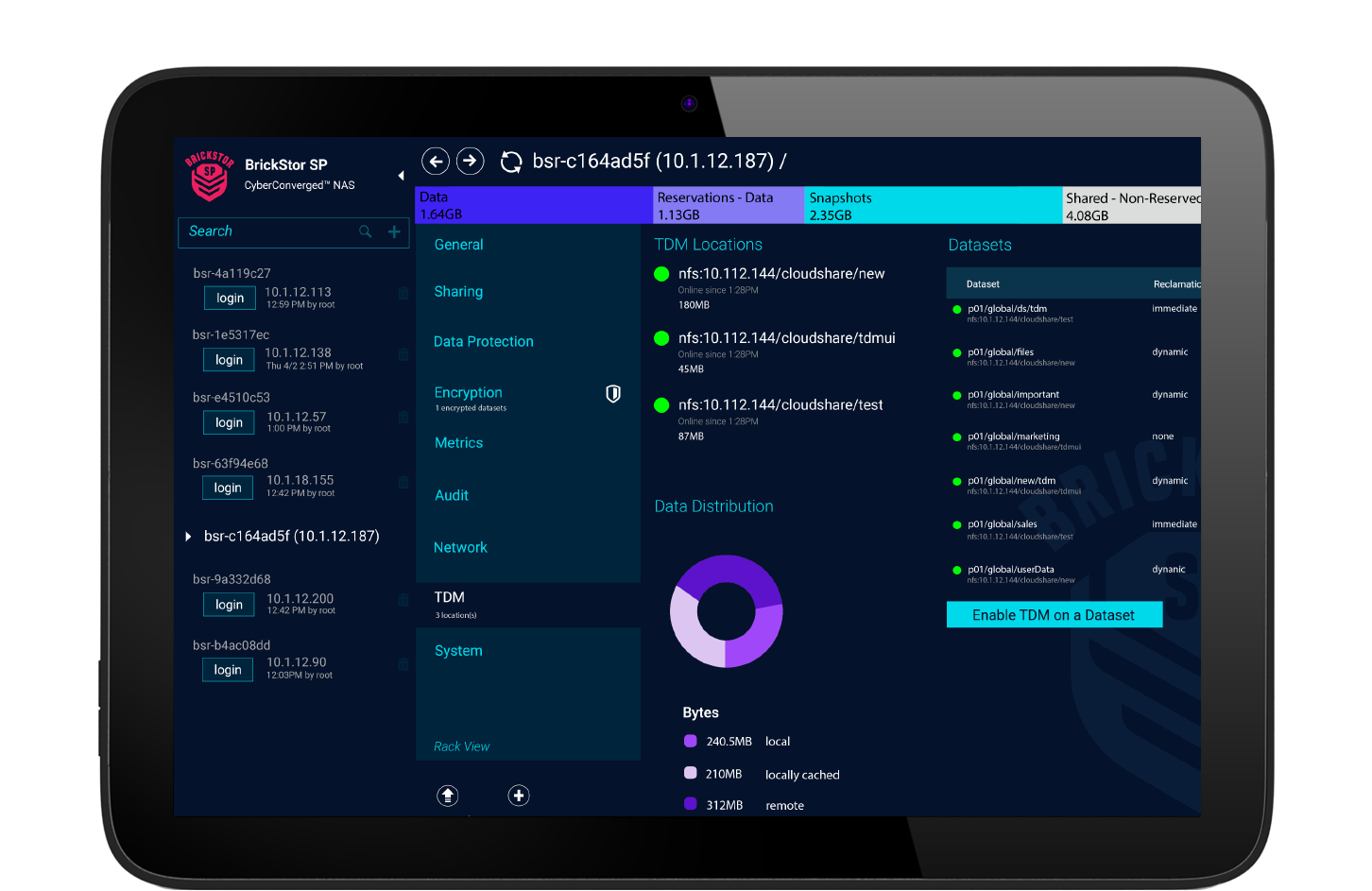 Utility Storage Features
| | |
| --- | --- |
| File Protocols | SMB 2 / 3 / 3.1.1, NFS 3 / 4 / 4.1 / 4.2 |
| Block Protocols | ISCSI, Fibre Channel 8 / 16 / 32 |
| Single Namespace | Microsoft DFS and NFS 4.1 |
Utility Storage
Protocols and namespace
You can have security & compliance and not have to sacrifice the boring old school utility storage tech you need either. Protect data to the client with AES-256 encryption via encrypted SMB or NFS krb5p.