Fulton, MD – May 26, 2023 – The full list of the 2023 TITAN Business Awards winners has been announced. This year, the awards program received over 1100 nominated entries from more than 50 countries,including the United States, Australia, United Kingdom, Philippines, Germany, India, Ireland, Cyprus, and South Africa.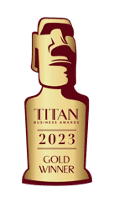 Among the submissions RackTop Systems was recognized as a top contender and honored with the following awards:
Information Technology for Cyber Security, Platinum

 

Information Technology for Cyberstorage, Gold

 

Information Technology for Most Innovative IT Company of the Year, Gold

 

Customer Service for Technology/Science, Gold
RackTop's BrickStor Security Platform is the only end-to-end Cyberstorage solution with active security that can stop a live ransomware attack or insider threat in under a second. It's the only Cyberstorage data services platform for unstructured data to protect data anywhere at the edge, core, or in the cloud. BrickStor SP supports customers with critical data in highly regulated industries including: healthcare; finance; energy; manufacturing; education; as well as federal, state and local government. Our customers' deployments are all unique and require specialized support for workload, environment, and use cases. We're proud our team's achievements and that we can recognize the integrity of our product and our support team with these 2023 TITAN Business Awards.  
RackTop's winning entries are showcased here. 
About The Awards
The TITAN Business Awards was formed with the sole mission of acknowledging the achievements of entrepreneurs and organizations worldwide. The competition aims to provide recognition to those overshadowed by industry giants, and the giants themselves. With a level playing field, only those who qualify will be deemed TITANs.  
Hosted by the International Awards Associate (IAA), the competition accepts entries from entrepreneurs, SMEs, and large organizations. Whether these parties are private or public, for-profit or non-profit does not affect their chances at winning, so the opportunity extends itself equally to various industries in the market. 
"We wish to congratulate the winners and commend them for the stellar works they had submitted," Thomas Brandt, spokesperson of IAA, remarked. "We are proud to be a platform for entrepreneurs and businesses to showcase their works and to honor their excellence in business with recognition." 
IAA invited multiple industry professionals to be onboarded as jurors. With seasoned professionals on the jury, strict and impartial assessments were effectively upheld. They were tasked with identifying exemplary entries and making the judgement call on whether said entries were deserving of TITAN honors. This ultimately contributes to the competition's vision of elevating standards and practices to be that of excellence, thus driving sectors forward.  
Learn more about the judging and evaluation process on the TITAN awards website.  
About RackTop
Since its founding in 2010, RackTop Systems has led a transformative approach to data protection by creating Cyberstorage that aligns with a new era of data-driven cyber attacks. Engineered by U.S. Intelligence Community veterans, RackTop's best-in-class BrickStor security solution follows a data-centric Zero Trust model that empowers the public and private sector to actively defend their sensitive unstructured data from the escalating presence of ransomware, insider threats, and nation state-sponsored cyberattacks. 
Contact us for more information about our Cyberstorage offerings.