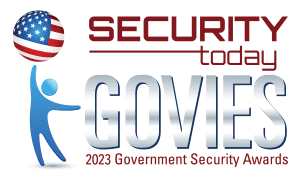 Fulton, MD – April 4, 2023 – Security Today magazine, the only integrated product and technology magazine reaching the entire security market and securitytoday.com, the preeminent editorial website for the security industry, has announced the 2023 winners in The Govies Government Security Awards competition. The awards honor outstanding government security products in a variety of categories. RackTop has been named a Platinum winner in two categories including Cyber Defense Solutions and Storage. ​
1105 Media launched its government security awards program in 2009. In 2011, this successful program became known as The Govies. As security continues to be a concern in government institutions, the security industry continues to respond with strong solutions.​
"Every imaginable security solution can be found in a government application, whether it be federal or state facilities. I truly appreciate all those who have participated in The Govies 2023, and I am amazed at the technology and product improvements year over year," said Ralph C. Jensen, publisher of Security Today magazine. "It is always enjoyable to engage with manufacturers and end users in the security industry. There is an excitement again, particularly after the pandemic, of what is happening in the security world, and what is possible."​
An independent panel of judges from the security industry selected the top entries in the 2023 categories and named Platinum and Gold winners using criteria including Features, Innovation, User Friendliness, Interoperability, Quality, Design, Market Opportunity, and Impact in the Security Industry, Technical Advances, and Scalability.​
RackTop's BrickStor Security Platform (SP) is a proactive ransomware defense solution to stop cyber attacks instantly. It's the first end-to-end Cyberstorage solution with active security to detect and stop cyber threats in real time. The platform minimizes the risk organizations face from modern cyber threats by actively defending valuable and sensitive unstructured data from data breaches, ransomware attacks, insider threats and extortionware attempts.  ​
The solution was built by former NSA engineers to enable every organization to protect their data as if it were a national secret. Simple to deploy and fortified with advanced security and compliance features, BrickStor SP is the first storage solution to provide active protections for unstructured data during all three phases of a cyber attack: before (cyber hygiene and risk management), during (active defense), and after (remediation and recovery). Additionally, BrickStor meets all five functional areas of the NIST Cybersecurity Framework, enabling organizations to identify, protect, detect, respond, and recover from cyberattacks.   ​
BrickStor SP is a zero-impact, drop-in replacement for existing network attached storage (NAS) systems, which eliminates the cost, complexity, and added vulnerabilities of bolting on disparate security suites to legacy storage. The security platform also features an embedded transparent data mover, which can leverage third-party cloud systems to tier archive data without sacrificing security or impacting customer experience. BrickStor SP is ideal for organizations that need to securely protect unstructured data, both on-premises and in the cloud. It does this successfully without the complexity or security vulnerabilities inherent to integrating existing legacy storage systems with loosely coupled third-party tools. Organizations can leverage existing SAN capacity or start fresh; the software can be deployed premises, in a VM, or in the cloud. ​
Visit the Govies website to review the complete list of 2023 award winners.​
About 

RackTop

​

Since its founding in 2010, RackTop Systems has led a transformative approach to data protection by creating Cyberstorage that aligns with a new era of data-driven cyber attacks. Engineered by U.S. Intelligence Community veterans, RackTop's best-in-class BrickStor security solution follows a data-centric Zero Trust model that empowers the public and private sector to actively defend their sensitive unstructured data from the escalating presence of ransomware, insider threats, and nation state-sponsored cyberattacks.