Fulton, MD – JUNE 9, 2023 – Following our announcement about RackTop's Cyber Security and Customer Service award wins at the 2023 TITAN Business Awards, RackTop's Human Resources department is excited to share that the organization has been recognized with three additional awards in the following categories: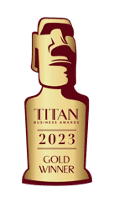 Company and Organization for Best Workplace of the Year, Gold

 

Human Resources for Software Company, Gold

 

Human Resources for Best Employee Engagement Strategy, Gold

 
Every RackTop employee plays a vital role in ensuring the success of the company mission – to enable organizations to protect and defend their data like it's a national secret. Driven by a work hard, play hard mentality, each department's accomplishments are celebrated in both big and small ways – from custom trophies for individuals who have made a big impact (or the best chili) to annual parties like its one-of-a-kind annual Racktoberfest celebration.
RackTop's HR team strives to maintain a dynamic, supportive, and fun work environment to engage and motivate employees (known as "Racktopians"). The team focuses on providing inter-departmental mentorship and opportunities for growth. For years, the company has led a highly successful internship program and has recently partnered with Pennsylvania-based Lackawanna College to offer spring semester internships.  
Employee well-being and appreciation are at the forefront of HR initiatives; employees receive a generous benefits package and enjoy a flexible work environment. RackTop's HR team has been implementing new ways to foster a sense of community for local and remote teammates. Activities have included: axe throwing; wine tastings; virtual trivia; Oscars and Grammys pools; Superbowl squares and March Madness brackets. The latest initiative is an experiential anniversary gift program to celebrate the hard work and dedication of our employees. Highlights of trips and experiences are shared on the company's Instagram account.
RackTop's 2023 TITAN Awards are showcased here. 
About The Awards 
The TITAN Business Awards was formed with the sole mission of acknowledging the achievements of entrepreneurs and organizations worldwide. The competition aims to provide recognition to those overshadowed by industry giants, and the giants themselves. With a level playing field, only those who qualify will be deemed TITANs.  
Hosted by the International Awards Associate (IAA), the competition accepts entries from entrepreneurs, SMEs, and large organizations. Whether these parties are private or public, for-profit or non-profit does not affect their chances at winning, so the opportunity extends itself equally to various industries in the market. 
"We wish to congratulate the winners and commend them for the stellar works they had submitted," Thomas Brandt, spokesperson of IAA, remarked. "We are proud to be a platform for entrepreneurs and businesses to showcase their works and to honor their excellence in business with recognition." 
About RackTop 
Since its founding in 2010, RackTop Systems has led a transformative approach to data protection by creating Cyberstorage that aligns with a new era of data-driven cyber attacks. Engineered by U.S. Intelligence Community veterans, RackTop's best-in-class BrickStor security solution follows a data-centric Zero Trust model that empowers the public and private sector to actively defend their sensitive unstructured data from the escalating presence of ransomware, insider threats, and nation state-sponsored cyberattacks. 
Contact us for more information about our Cyberstorage offerings.