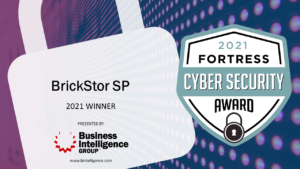 FULTON, MD June 15, 2021 – RackTop Systems, the pioneer of CyberConverged™ data security, has won the 2021 Fortress Cyber Security Awards in the data protection category and is a finalist in the compliance category. The industry awards program sought to identify and reward the world's leading companies and products that are working to keep our data and electronic assets safe among a growing threat from hackers.

RackTop's award-winning data security platform BrickStor Security Platform (SP) can detect and stop ransomware without agents and reduce the detection time of a cyberattack from months to seconds with included user behavior auditing and analysis features. The platform extends Zero Trust security from the network down to the file. BrickStor SP is a software–defined NAS with embedded security and compliance features that make it more secure and cost effective than a traditional file share with additional 3rd party security and compliance applications. It is the only data storage solution in the world that is providing a real–time active defense to protect files against the most advanced threats, including cyber espionage and ransomware.
"We are so proud to name RackTop Systems as a winner in the 2021 Fortress Cyber Security Awards program," said Maria Jimenez, Chief Nominations Officer, Business Intelligence Group. "As our society continues to evolve and become more reliant on networks and data, companies like RackTop are critical at providing the protection and trust consumers demand."
For information about the annual Fortress Cyber Security Awards, please visit https://www.bintelligence.com/fortress-cyber-security-awards.
About RackTop Systems
RackTop Systems is the pioneer of CyberConverged™ data security, a new market that fuses data storage with advanced security and compliance into a single platform. Engineered by U.S. Intelligence Community veterans RackTop's BrickStor Security Platform is architected following a Zero Trust security model that protects data from ransomware, detects insider threats, and facilitates meeting complex data privacy and regulatory compliance requirements. BrickStor SP is a zero-impact, drop-in replacement for existing network attached storage (NAS) systems, which eliminates the cost, complexity, and added vulnerabilities of bolting on disparate security suites to legacy storage. The security platform also features an embedded transparent data mover, which can leverage third party cloud systems to tier archive data without sacrificing security or impacting customer experience. Headquartered in Fulton, Md., RackTop was founded in 2010 by cyber experts who have been solving the most complex data and security problems for more than two decades. RackTop's technology has been deployed at numerous organizations in a variety of industries worldwide, including government/DoD/public sector, media/advertising and entertainment, financial services, health care, higher education and life sciences.
About

Business Intelligence Group

The Business Intelligence Group was founded with the mission of recognizing true talent and superior performance in the business world. Unlike other industry award programs, these programs are judged by business executives having experience and knowledge. The organization's proprietary and unique scoring system selectively measures performance across multiple business domains and rewards those companies whose achievements stand above those of their peers. www.bintelligence.com
Contact
Maria Jimenez
Chief Nominations Officer at Business Intelligence Group
[email protected]
+1 909.529,2737