RackTop was judged by GigaOm as the top innovator in the report and outperformed the competition with a very fast time to value without compromising on the breadth of the solution 
FULTON, MD. – RackTop Systems, a leading and innovative provider of Cyberstorage, an unstructured data solution which actively defends against ransomware and insider threats, today announced it has been recognized as the leader in GigaOm's Sonar Report for File-Based Primary Storage Ransomware Protection, 2022. RackTop achieved the highest rating as the Leader and top Innovator with demonstrated fast time to value and breadth of solution.  
Whereas commonly deployed backup solutions focus on being the last line of defense, according to the report, embedded "NAS ransomware protection solutions constitute an important first line of defense." The report further emphasizes that "because primary data is the first point of impact for ransomware attacks, it's advisable to implement primary storage solutions that incorporate ransomware protection. Timely identification, alerting, and mitigation are preferable to dealing with the aftermath of a ransomware attack and its severe impact from a financial, regulatory, and reputational perspective." 
The report recognizes the need for prioritizing ransomware protection on primary storage systems and proactive identification and mitigation of threats to "ensure that primary data is minimally impacted by ransomware attacks, guaranteeing a normal flow of business operations while also mitigating the consequences of financial, regulatory, and reputational impact." The report includes resources and recommendations for users to review vendor rankings, key product insights, and differentiating features of ransomware protection solutions in the space.  
According to GigaOm's analysts,"RackTop provides a no-compromise approach to ransomware protection with a strong zero-trust foundation and a feature set that will continue to deliver long-term value to organizations." 
RackTop's BrickStor Security Platform (SP) is the only unified Cyberstorage platform that can detect and stop a live ransomware attack in real time. RackTop is the pioneer and leader in active security for primary unstructured data, and has the unique distinction of addressing all 5 functional areas of the NIST Cybersecurity Framework in a unified product. BrickStor SP stores and protects enterprise data at the edge, the core, or in the cloud. It is available as an on-premises solution, a virtual edition to be deployed on the customer's existing infrastructure, or in the public cloud. BrickStor SP can also augment existing storage and enhance prior SAN and S3 compatible object storage investments.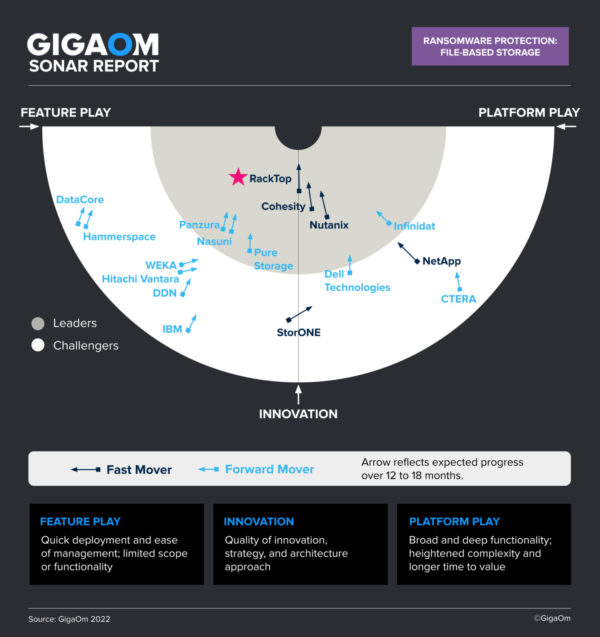 The GigaOm Sonar Report is focused on emerging technologies and market segments in the ransomware protection space for file-based primary storage.
GigaOm subscribers can access the full Sonar Report on GigaOm's website. 
Source: GigaOm, Sonar Report for File-Based Primary Storage Ransomware Protection, Max Mortillaro, Arjan Timmerman, 7 September 2022