23.3 Delivers Notable Feature Enhancements to Data Security, Data Management, and Compatibility
RackTop Systems, a leading and innovative provider of Cyberstorage, an unstructured data solution which actively defends against ransomware and insider threats, released version 23.3 of the BrickStor Security Platform (SP). The cutting-edge active security features help organizations defend their data against evolving cyber threats from nation states, cyber criminals, insider threats and hackers. BrickStor SP reduces the threat window and detects threats early within their attack cycle before the attacker can steal or destroy data.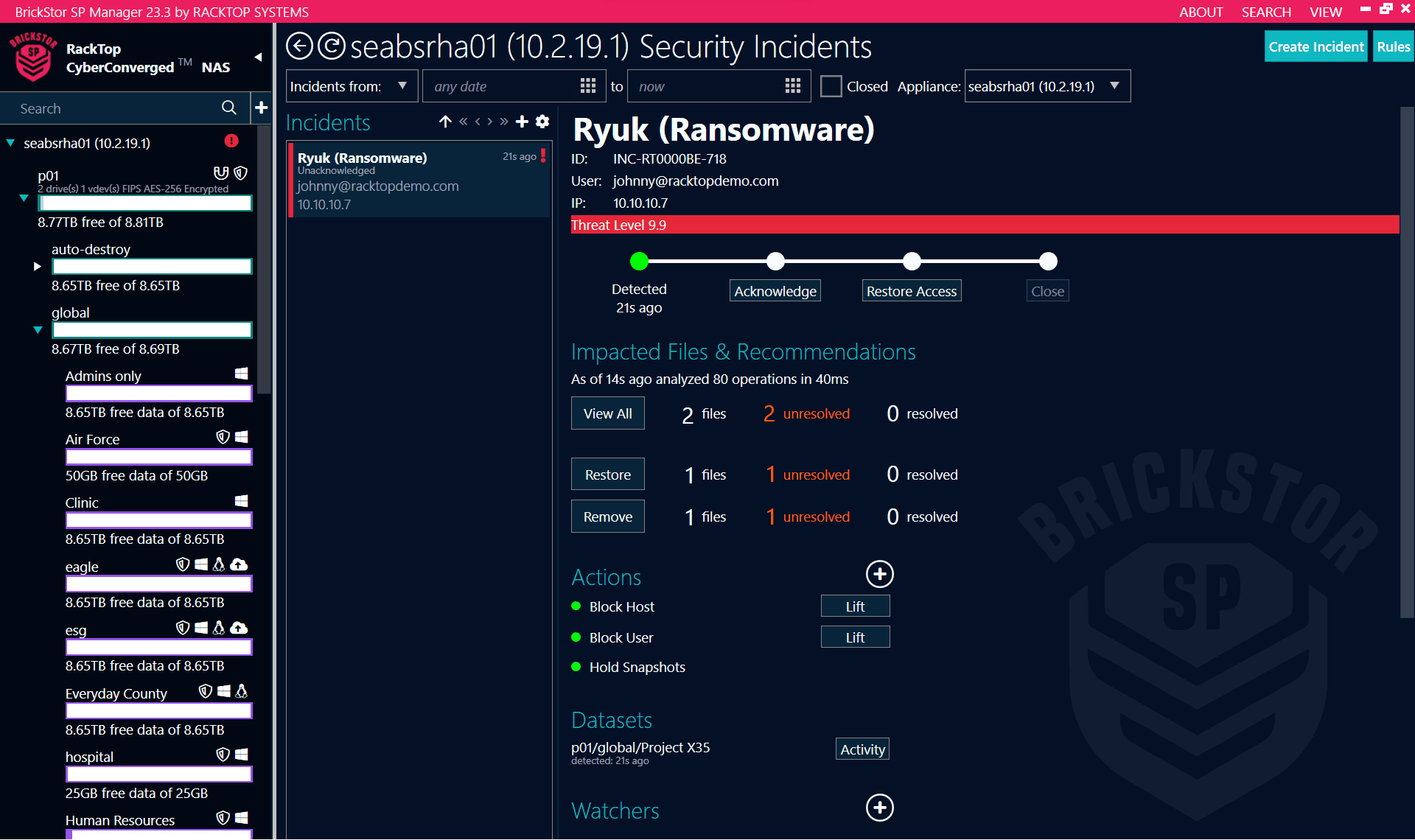 BrickStor SP is the only end-to-end Cyberstorage solution with active defense to detect and stop live ransomware attacks, insider threats, and data breaches in real time. The award-winning solution enables organizations to store and protect enterprise data anywhere – at the edge, core, or cloud. Embedded with the full NIST Cybersecurity Framework, the platform is the first to defend data during all three phases of a cyber attack:
Before: In this period of Cyber Hygiene, BrickStor delivers visibility into who and what data is being accessed and the ability to reduce risk through integrated reporting.
During: In this period of Active Defense, BrickStor's proactive security features will alert on and stop an attack in real time, creating cyber resilience
After: In the recovery phase, BrickStor identifies what was affected during the incident and rapidly restore data to the pre-incident version.
"We are heavily invested in educating organizations about how they can better protect their data and why traditional, non-secure NAS solutions will continue to fail," said Jonathan Halstuch, Chief Technology Officer of RackTop. "New and prospective customers immediately understand the benefits of actively defending their data and don't want to risk double extortion attempts, downtime or the inconvenience of long recovery processes. Many organizations who rely on the leading data backup providers as their ransomware recovery strategy have experiences on average 20-days of downtime as of the 4th quarter of 2021. And, many organizations who have backups still pay the ransom in order to recover faster and hopefully prevent the attackers from exposing data that was stolen during the breach. Ransomware attacks accounted for 11% of breaches in 2021 and I expect that number to quadruple by the end of 2023."
Notable feature improvements in BrickStor Version 23.3:
Data Security:
Increased capabilities to protect data against evolving threats, new attack tactics, techniques, and procedures (TTPs), and improve cyber hygiene. The new assessors enable faster detection of attacks and improved incident management capabilities that speed up recovery.
Added assessors for 12 new ransomware core variants and techniques
Bulk restore operations within incident management
Observation mode
Probe attack detection
Unusual administrative access detection
SMB 1 and insecure protocol access alerting
User definable security rules with AD user & group support
Unusual access sensitivity adjustments
256-bit ciphers for SMB with performance optimizations
Data Management:
Feature improvements to enable customers to more easily manage and operationalize their data. RackTop is focused on enabling organizations to maximize the value of their data while keeping it protected and working within any IT infrastructure without having to change workflows.
Improved indexing engine for snapshots with millions of files
Improved identity queries against Active Directory
SMB locking improvements for highly concurrent workloads
Dataset encryption performance improvements (AES-GCM 256)
Improved NDMP configuration for use with backup solutions
Improved Transparent Data Movement performance to S3
Compatibility Optimizations:
RackTop continues to add compatibility with latest technologies from our OEM partners and suppliers in order to take advantage of performance and security improvements. This expanding compatibility portfolio gives our customers and prospects more ways they can deploy our technology within their existing environments. This enables customers to put the technology on the platform and in the location to best meet the needs and operations of the business or organization. It also gives customers and prospects more choices when choosing what vendors they want to use with RackTop software which may be dictated by price or supply chain.
Optimized compatibility with the latest generation of Intel Processors
Optimized compatibility with HPE Gen10+
Optimized compatibility with HPE SANs, IBM Flash Systems and Nyriad
These capabilities are available today in BrickStor SP release 23.2. RackTop recommends all customers upgrade to this release immediately for maximum protection.
Register for our Jumpstart Program to try BrickStor Free for 90-days.