A recent GigaOm survey revealed that respondents are equally concerned about data spillage, dark data, and compliance issues as they relate to their current storage infrastructure. No matter what industry you're in, data spillage and dark data can create major compliance problems for any organization.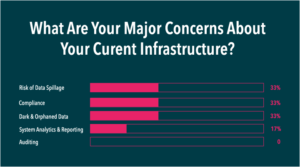 Prior to founding RackTop, we noticed that these features were lacking in the data products. We witnessed firsthand the impact these issues had on security and operations. BrickStor SP was developed to address these challenges natively, as tier-1 features of the product. Here is how we do it: 
Dark Data
BrickStor's integrated reports allow data owners and storage admins to review who has access to each data set by users and groups. Admins can filter by user, group, or data set to see what access is granted and ensure no data set is orphaned. For example, when a user leaves an organization, the data becomes stranded, and the business is unable to derive value from or manage the data. User behavior reporting empowers admins and data owners to see who accesses data as well as what data has gone stale and hasn't been touched in 30, 60, or 90 days, or even a few years. If you have sensitive data and it's neither used nor managed, it's a liability.
Data Spillage
The intentional or unintentional placement of data where it does not belong can become a big problem for organizations working with confidential or sensitive information. Organizations need to be able to understand when data has been misplaced and catch it quickly so it can be remediated and reported on. Regulated industries often require formal notifications, so it's critical to understand what happened, how it happened, and take immediate corrective action. BrickStor SP's metadata intelligence services combined with user behavior analysis enables any organization to quickly identify misplaced or overexposed data and attribute the source of the mistake.
Compliance Reporting
When it comes to compliance reporting and unstructured data, almost all regulatory regimes focus on data encryption, records retention and disposition, least privileged access management, and the auditing of application and user activity with the data and records. BrickStor SP's integrated compliance reporting capabilities enable organizations to quickly demonstrate continuous compliance with all of these regulatory controls. Integrated compliance reports make it fast and easy on the IT team to pass an audit. The reports produced by BrickStor SP are in a format that doesn't require subject matter expertise and is consumable by storage admins and executives alike.