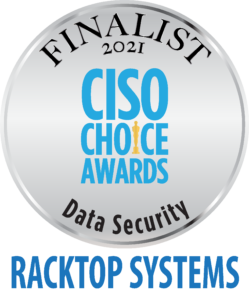 RackTop Systems is proud to announce that BrickStor SP has been recognized in the 2021 CISO Choice Awards. In this interview, leading analyst Richard Stiennon talks with Jonathan Halstuch, CTO and Co-Founder of RackTop Systems, to discuss the BrickStor SP solution which was recognized in the Data Security category. Jonathan explains how RackTop brings together data protection and data security through a zero trust cyberstorage solution. BrickStor helps organizations protect data from malicious actors and potential ransomware attacks through integrated UEBA and SOAR technologies.
Richard Stiennon, Founder of IT Harvest and Former Gartner VP of Research
Jonathan Halstuch, CTO & Co-Founder of RackTop Systems
The Security Current CISO Choice Awards™ 2021 is a first of its kind awards as a Board of CISO Judges select security companies based on real-world perspectives. The CISO Choice Awards recognizes the leaders in key technology and business categories. The winning security companies receive the industry's first CISO Board validation.