RackTop Named Winner of the Coveted Global InfoSec Awards During RSA Conference 2021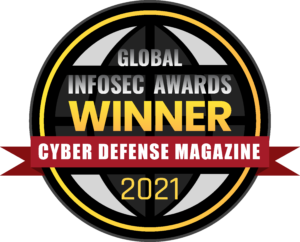 FULTON, MD May 17, 2021 – RackTop Systems, the pioneer of CyberConverged™ data security, has been named a 2021 winner of The Global Infosec Awards from Cyber Defense Magazine. RackTop's CyberConverged™ Security Platform, BrickStor SP, has been recognized with three cybersecurity awards, including:

Most Innovative in Data Security
Cutting Edge in Encryption
Most Innovative in Insider Threat Prevention
Engineered by U.S. Intelligence Community veterans, RackTop's BrickStor Security Platform is architected following a Zero Trust security model that protects data from ransomware, detects insider threats, and facilitates meeting complex data privacy and regulatory compliance requirements. BrickStor SP is a zero-impact, drop-in replacement for existing network attached storage (NAS) systems, which eliminates the cost, complexity, and added vulnerabilities of bolting on disparate security suites to legacy storage.
BrickStor SP's encryption and key management features are implemented in a way that is transparent to the user during daily activities. BrickStor employs FIPS 140-2 validated cryptography and automatically protects data with multiple layers of encryption for data at rest and in flight without affecting the user experience or application performance. 
RackTop has also developed an efficient insider threat program that detects and identifies unusual and unauthorized behavior, and can intervene before intellectual property has been compromised. BrickStor uses a Zero Trust architecture that allows organizations to defend against any attack – inside or otherwise.
"RackTop embodies three major features we judges look for to become winners: understanding tomorrow's threats, today, providing a cost-effective solution and innovating in unexpected ways that can help stop the next breach," said Gary S. Miliefsky, Publisher of Cyber Defense Magazine.
About CDM InfoSec Awards
This is Cyber Defense Magazine's ninth year of honoring global InfoSec innovators. Our submission requirements are for any startup, early stage, later stage or public companies in the INFORMATION SECURITY (INFOSEC) space who believe they have a unique and compelling value proposition for their  product or service. Learn more at www.cyberdefenseawards.com
About Cyber Defense Magazine
With over 5 Million monthly readers and growing, and thousands of pages of searchable online infosec content, Cyber Defense Magazine is the premier source of IT Security information for B2B and B2G with our sister magazine Cyber Security Magazine for B2C. We are managed and published by and for ethical, honest, passionate information security professionals. Our mission is to share cutting-edge knowledge, real-world stories and awards on the best ideas, products and services in the information technology industry.  We deliver electronic magazines every month online for free, and special editions exclusively for the RSA Conferences. CDM is a proud member of the Cyber Defense Media Group. Learn more about us at https://www.cyberdefensemagazine.com and visit https://www.cyberdefensetv.com and https://www.cyberdefenseradio.com to see and hear some of the most informative interviews of many of these winning company executives.  Join a webinar at https://www.cyberdefensewebinars.com and realize that infosec knowledge is power.