The latest version adds frictionless data management capabilities to RackTop's data ecosystem.
July 14, 2015, Fulton, MD. – RackTop Systems Inc., creator of the Data Ecosystem and a leading provider of enterprise data management and storage appliances, today announces the release of version 15.07 of RackTop's software defined storage data operating system.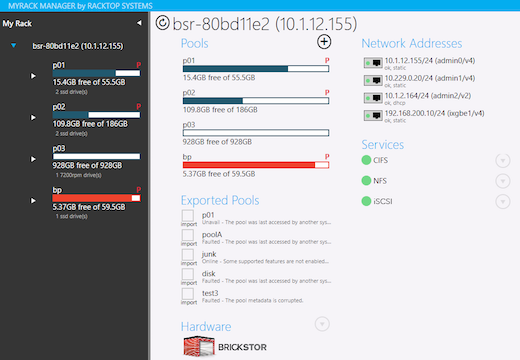 The latest improvements provide administrators and managers real-time visibility to observe data usage, growth and return on investment both on premises and in the cloud. With analytics and the operating system's data management capabilities, users can seamlessly, move distribute and consolidate data to meet the needs of the organization.
The new management tools actively combat data sprawl – a significant cybersecurity risk. Included with the latest release are upgrades to the myRack manager, a modern touch friendly graphical user interface that allows users to manage all of their RackTop appliances from a single pane of glass. Now customers can take action at a global level and search for files across all of their RackTop appliances with one click. myRack manager is designed to eliminate the customer's lack of visibility into their data and systems by elegantly displaying the most important and relevant information.
With data protection governed by business policy, the intelligence built into BrickStor OS ensures customers will never miss a backup window again. By leveraging storage profiles and zero footprint snapshots, RackTop is making it effortless and extremely efficient to protect data. BrickStor's native data protection policies results in reduced spending on backup licensing, software integration and backup administration.
"We are redefining how organizations think about their data challenges. We are changing the industry focus from just data storage to data management, protection and utilization." said Jonathan Halstuch, RackTop Chief Operating Officer. "We will outperform our competitors with feeds and speeds, but what executives today tell us matters most is their ability to make data-driven decisions and meet their compliance and security requirements." The latest release simplifies full data lifecycle management with integrated services that satisfy the needs of both the administrator and the decision makers.
RackTop is now shipping all BrickStor, zFLASH and vBOX systems with version 15.07 of BrickStor OS. Each system includes free storage capacity within myRacktop, RackTop's private and secure multi-tenant cloud, which provides every customer with inherent offsite backup, data archiving and business continuity to every customer.
About RackTop Systems
Established in 2010, RackTop Systems is a leading cloud and storage technology company founded by seasoned IT professionals with vast information security experience. RackTop's innovative full stack technology solution provides organizations with peace of mind through effortless data management, storage, protection and utilization. Learn more about us at racktopsystems.com.
Contact: Laura Bednash, phone: 888-472-2586