Featured Gartner® Research
Predicts 2023: Zero Trust Moves Past Marketing Hype Into Reality
There's more to zero trust than ZTNA. Develop an understanding of why you should adopt a data-centric zero trust architecture as part of your cyber security posture.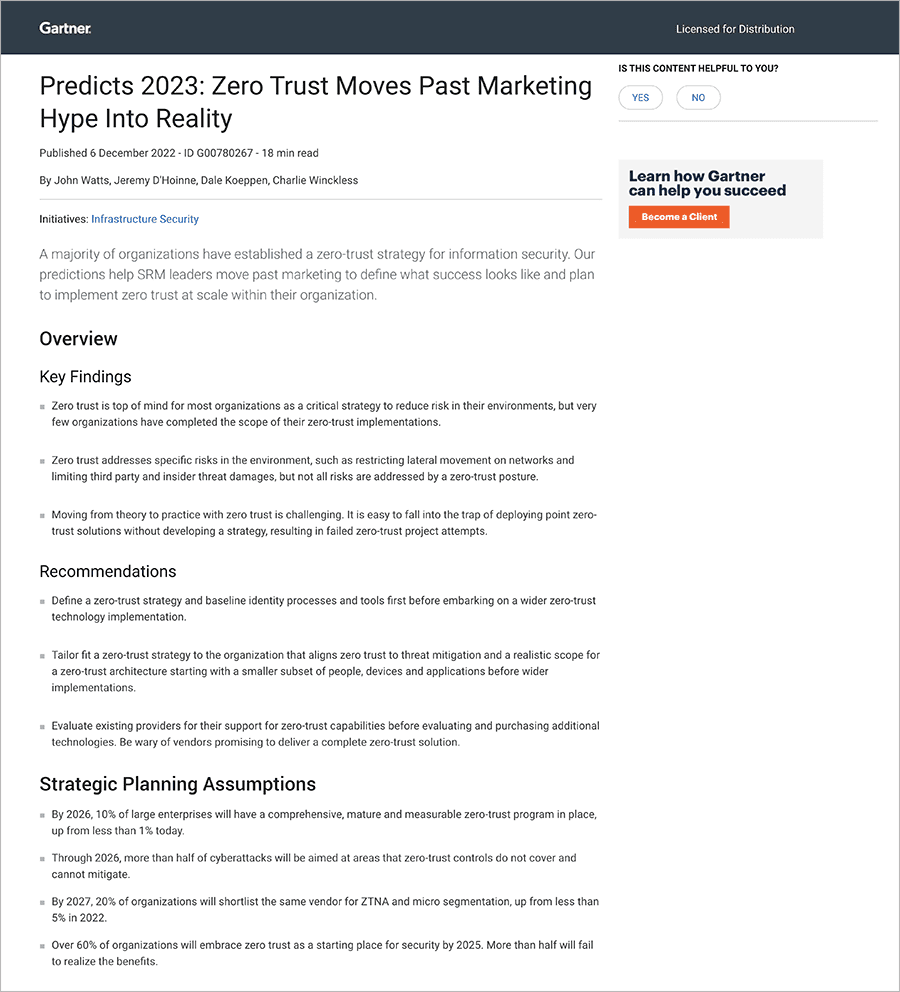 Data is every organization's most critical asset
The report recognizes that organizations must "implement zero trust to improve risk mitigation for the most critical assets first, as this is where the greatest return on risk mitigation will occur."
Zero trust can be applied as a mindset or paradigm, strategy or implementation of specific architectures and technologies 
Implement Proactive Cyber Defense Strategies
According to Gartner, "zero trust is top of mind for most organizations as a critical strategy to reduce risk in their environments, but very few organizations have completed the scope of their zero-trust implementations." 
Focus on your organization's goals and objectives, get past the marketing buzz by taking action to improve risk mitigation; compliment your plan with preventative security strategies like building a cyber resilient infrastructure.
Key Takeaways
Implement zero trust to reduce risk for the most critical assets first

 

Compliment zero trust with preventative security strategies like cyber resilience

 

Refer to the CISA maturity model and others to tailor your organization's own maturity model to your organization's goals and objectives

 
Instantly download the complimentary report
Gartner, Predicts 2023: Zero Trust Moves Past Marketing Hype to Reality, 6 December 2022, John Watts, et. Al.
Gartner is registered trademark and servicemark of Gartner, Inc and/or its affiliates in the U.S. and internationally, and is used herein with permission. All rights reserved.