RackTop Announces Transformative Subscription Models for myRack Data Management Platform and BrickStor Storage OS
TRANSFORM EXISTING SDS SYSTEMS AND HARDWARE INTO A FULLY SUPPORTED POLICY DRIVEN ADVANCED STORAGE AND DATA MANAGEMENT SOLUTION WITH UNIVERSAL MULTI-SYSTEM MANAGEMENT, AUTOMATED DATA PROTECTION AND CLOUD INTEGRATION
RackTop announces a subscription based, software only delivery option for its acclaimed myRack data management platform and BrickStorOS storage operating system. This offering will enable customers who have existing on-premises hardware investments to benefit from RackTop's single pane-of-glass management interface, while enjoying the benefits of pay-as-you-go cloud economics.
This new offering compliments RackTop's traditional BrickStor turn-key appliance, and is in response to a high demand from existing software defined storage (SDS) users looking for next generation features without having to fully replace their existing hardware, or change from their preferred hardware vendor. RackTop's myRack platform can simply transform existing supported hardware into an advanced storage and data management solution with features such as universal multi-system management, policy based configuration, automated data protection, and cloud integration.
RackTop provides two cost-effective subscription models for customers to choose from to best match their usage pattern. Subscription pricing is based on either total raw capacity of the system, or the amount of storage consumed. Both models include software updates, 24/7 support, and flexible monthly, quarterly or yearly billing options. Concierge support with provisioning management and active monitoring is also available. And as with RackTop's turn-key appliance option, subscription customers will also have the embedded ability to replicate data to RackTop's secure nationwide cloud for disaster recovery and business continuity purposes at a discounted rate.
"The subscription model enables customers to migrate from existing software defined storage (SDS) systems without a large upfront license and maintenance cost typically charged by other solutions", noted Jonathan Halstuch, RackTop's COO. "And they gain the efficiencies of cloud economics in their own data center without bandwidth or storage IO fees."
Customers with existing investments in Dell, Cisco, Supermicro, Ciara, Western Digital, SanDisk, HGST and Seagate equipment can reuse their existing hardware investment and transform it into a fully supported solution from RackTop. RackTop has a repeatable process for qualifying existing hardware, and migrating data from other storage solutions. Migrations from existing ZFS based SDS solutions are in-place and effortless, without any movement of data.
For pricing, availability, and more details about the features of myRack and BrickstorOS contact RackTop today.Register here for the Webinar on Wednesday May 3, 2017.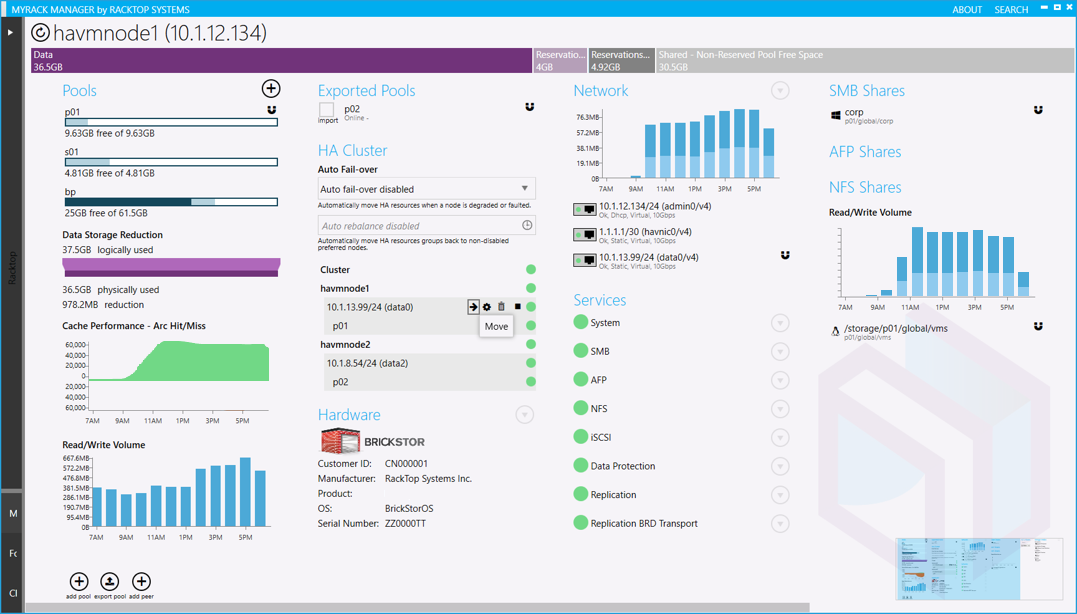 About RackTop Systems
RackTop Systems develops high performance software defined storage solutions that are effortless to manage, extremely reliable, and engineered to integrate directly with the user's workflow. RackTop's easy data management and storage platform enables everyday users to manage thousands of systems through a single interface. When you choose RackTop, you get more than a data appliance – you get an entire data ecosystem. For more information, please visit www.racktopsystems.com.
Media Contact
Laura Bednash, email or call 888-472-2586.
Originally published via PRNewswire 4/13/2017.